ISA OPEN WATER SUP INSTRUCTOR COURSE WALES
 

ISA OPEN WATER SUP INSTRUCTOR COURSE

The ISA Open Water SUP Instructor qualification is the only internationally recognised Open Water SUP Instructor qualification recognised by the International Surfing Association and member organisations. All ISA courses set the international standard for accreditation for Instructors and Coaches in the surf school industry.

The ISA Open Water SUP Instructor Qualification is the Instructor accreditation professional SUP instructors wanting to teach in open water and the associated types of SUP racing and paddling. It covers teaching, instructing and coaching in exposed waters, downwind and racing conditions for a distance of 5km.

All ISA Instructors must be a minimum age of 16 years old. Instructors under the age of 18 must work with a supervising instructor until they reach 18 years of age, at which time they are able to instruct on their own.
Course content
The Open Water SUP Skills assessment requires the Course Participant to demonstrate the following techniques. These must be not only demonstrated but demonstrated with confidence and competence.

• Wave Negotiation

• Mounting the board for a race start

• Making a buoy turn

• Catching a runner

• Steering the board with the feet instead of the paddle

• Drafting (wash riding)

• Sprinting or increase paddle rating and speed

• Down wind paddling

• Returning to shore safely
Prerequisites
A good level of fitness is required 

Confident swimmer

Show an interest and passion for the sport
What's Included?
Top of the range equipment
FREE wetsuit hire
Unlimited tea, coffee and water refills
The pre-requisite for the ISA Open Water SUP Instructor qualification is that a candidate must already have completed the ISA Flat water SUP Instructor Course. All after-course components DO NOT need to have been completed and signed off, just having the done the course. Please note, before being awarded the ISA Open Water SUP Instructor qualification an instructor must have fully completed all requirements for the ISA Flat water SUP Instructor qualification.
Open Ocean Sup Instructor Courses In Wales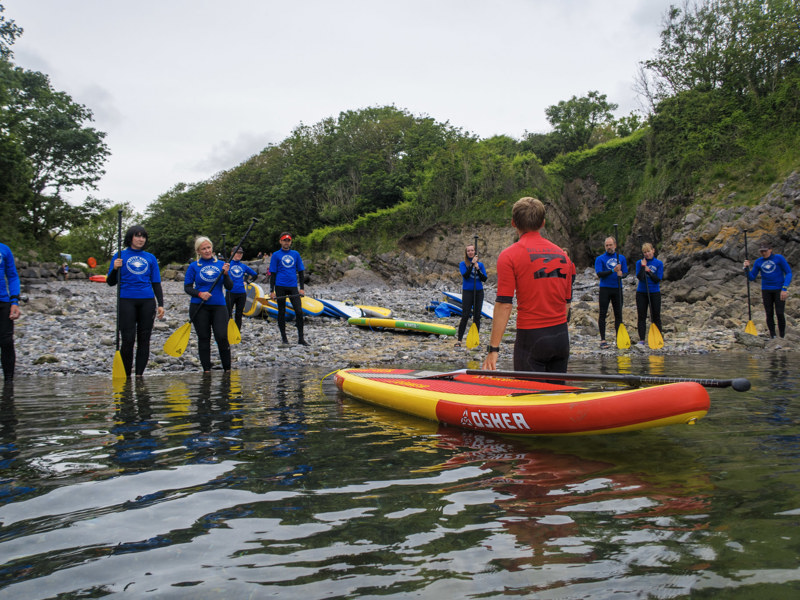 Open Ocean SUP Instructor Course Locations And Dates
SUP Instructor courses running in Pembrokeshire, Wales 
Location's & Dates; Marine Centre Of Excellence Saundersfoot, Tenby North Beach, Stackpole Quay and  Gupton Farm, Pembrokeshire:
19th - 20th March 2022
09th - 10th April 2022
14th - 15th May 2022
11th -12th June 2022
03rd - 04th September 2022
Open Ocean SUP Instructor Course FAQs
Here at Outer Reef, we have been running surf and SUP lessons and professional development courses for over 25 years both in our home county of Pembrokeshire and worldwide. 
We still love teaching the next generation of surfers, paddle boarders and beach lifeguards, whether it's on a windswept beach in Wales, or on the beaches of France or Bali. 
Our team are true waterman / water-ladies  and have represented the GB in competitive surfing and are surf ambassador for UK/Europe, Indonesia and Sri Lanka, helping national governing bodies create a clear pathway for the sports development. With 25 years of experience in Surf, Sup and Lifesaving development to all ages and abilities, Dean is also very proud to work together with Disability Sport Wales, local community organisations, junior and secondary schools, National Trust and Pembrokeshire County Council, as well as global governing bodies.
We often employ people, especially locals, who have completed courses with us, so be sure to ask if you are looking for employment and we can let you know if we have any availability.
Yes we are. We have £10 million public liability insurance and all instructors & surf crew are fully qualified & members of the NGB.
There are no hidden costs you will have to keep up-to-date with your membership to the ISA, which is the international governing body.
Our Pembrokeshire courses will be held at our Activity Centres at
The Marine Centre Of Excellence Saundersfoot 
Tenby North Beach
Stackpole Quay
Accommodation is not included in the cost of the course but we can recommend great value for money accommodation in the nearby area. 
Food is not included, but there are local cafes nearby and a small supermarket about a 15minute drive away. If you do need to heat up your food, we do have a microwave available onsite and don't worry there is a kettle available for unlimited tea and coffee.
Wetsuit and surfboard (if you have them, if not both can be provided free of charge),

Towel/dryrobe (there are no changing facilities available at our beaches),

Paper and a pen, sunscreen (if required), refillable water bottle, lunch,
Yes! You must be able to show and understand the rules of priority, be able to negotiate the line up and show confidence in turning left and right
This is specific to each of the different courses we offer, and more details can be found on each of our individual course pages. We do require you to be swim fit and a confident and competent swimmer.
This is specific to each of the different courses we offer, and more details can be found on each of our individual course pages.
ISA Level 1 - 20 Hours
ISA Level 2 - 10 Hours
ISA Level 1 FW SUP - 10 Hours
Once you have completed your assisting hours all information will be sent to the relevant governing body who will then process your certification
Yes, all ISA courses require an up to date lifesaving qualification too which can be completed before or after your course. If you are interested in doing your lifesaving course with us please let us know upon booking.
Open Ocean SUP Instructor Course Pembrokeshire, Wales | Instructor Courses
SUP INSTRUCTOR COURSES UK | SURF INSTRUCTOR COURSES | INSTRUCTOR COURSES BALI | SRI LANKA
Open Ocean SUP Instructor Course In Wales
ISA Stand Up Paddle Boarding Instructor Courses In Pembrokeshire, Wales 
The International Surfing Association (ISA) is recognised by the International Olympic Committee (IOC) as the World Governing Authority for Surfing, Stand Up Paddle (SUP) Surfing and Racing, and all other wave riding activities. The ISA has been crowning World Champions since 1964.
The ISA Surf & SUP Coaching & Instructing Educational Program is the international standard for accreditation of Coaches and Instructors in the Surf & Sup School industry. The ISA is committed to all surfers. Its philosophy is one of inclusion: recognising it is the right of all people regardless of age, gender, ethnic background and ability level, to participate in the sport of surfing and its related activities. All of the above contribute to the ISA's ultimate mission, which is to develop surfing globally.
Instructor Training | Pembrokeshire Watersports
Pembrokeshire Paddle Boarding
ISA SUP INSTRUCTOR COURSES
ISA STAND UP PADDLE BOARDING INSTRUCTOR COURSES IN PEMBROKESHIRE | ISA SUP INSTRUCTOR COURSES
Open Ocean SUP Instructor Course | SUP INSTRUCTOR COURSES
FLAT WATER SUP AWARD 
OVERVIEW OF THE ISA COACHING
& INSTRUCTING PROGRAM [CIP]
The ISA CIP was established in 1994 as a progressive coach education program. Coaches of children, adults, veterans, athletes with a disability or elite athletes at club, school, regional, state or national level can become more effective coaches through participation in the CIP.
The global objectives of the ISA Coaching & Instructing Program are:
To establish an international system of
Coaching and Instructing Courses, improving the safety and efficacy of surf instruction around the world.
To further develop, through educational programs, a body of knowledge on which Coaches and Instructors may draw.
To provide Coaches and Instructors with employment opportunities, encouragement and support.
To advance surf coaching and Instructing as a globally standardised  and highly professional activity with stringent requirements.
For the individual, the CIP aims to:
Increase confidence and competence in coaching ability
Promote an ongoing progressive improvement of knowledge and expertise
Incorporate the basics of sports science, enabling a more in-depth approach to coaching
Promote the use of safe and correct techniques
Provide a structure to improve communication skills
Encourage the development of innovative coaching techniques
Provide quality controlled learning in all training programs
Increase the enjoyment of sport for coaches and athletes
CIP training programs include the following components:
Coaching principles – fundamentals of coaching and athletic performance
Sport specific – skills, techniques, strategies and scientific approaches to the particular sport
Coaching practice – practical coaching and application of coaching principles
Structure of the CIP
CIP programs utilise competency based training principles. This includes:
Competency standards that specify the levels of knowledge and skill required
Flexibility in education training delivery
Equitable access to the program and equitable training methods
Assessment that measures the identified competencies
A mixture of theory and practical training
Currency – coaches and officials must update their accreditation at least every 4 years
Who delivers and assesses CIP training programs?
CIP training programs are conducted by ISA selected organisers and course presenters. They are responsible for assessing whether a coach or official has met the requirements for domestic accreditation at a particular level of training.
Open Ocean SUP Instructor Course
After attending the online paddle boarding theory course, you then have to do the practical coaching alongside a fully qualified sup coach. You're more than welcome to do this with us where you will have continuous professional development coaching with a range of ages and abilities. so this is not only a online course. Due to the unprecedented times it's a great opportunity to do the theory part like many schools & universities & national governing bodies do for example ILS. As a license AALS Centre the award is recognised & the flat water award is for flat water & not waves or down winding, these are separate awards you can also do with us. If you have any questions please don't hesitate to contact us.
THE STEPS TO SUP FLAT WATER COACHING QUALIFICATION
Attend the entire 2 day course
Successfully complete the assessments:
Venue Analysis Lesson Plan Lesson Delivery SUP Skills Test
Hold a current SLSGB OR ILS OPEN Ocean Rescue Award or water safety equivalent
Hold a current First Aid Certificate
Hold a Working with Children Police Check
Complete 20 SUP coaching hours with a National Federation / ISA affiliated SUP school Be a National Surf / SUP Federation memberSubmit all paperwork to your ISA Course Organiser / Course Presenter for processing
On completion of these requirements, your ISA SUP Surf coaching accreditation will be endorsed and a new coaching card will be issued. The coaching card can be used as evidence to gain employment with a ISA affiliated SUP school.
RE-ACCREDITATION
QUALIFICATION INFORMATION
Your SUP Surf accreditation is added to your current SUP coaching accreditation and remains current whilst that accreditation is current. Providing there are no complaints registered against the instructor, the updating process will occur as part of your current SUP coaching re-accreditation.
Do you have a passion to teach surfing OR paddle boarding ? Our surf & Sup instructor courses will give you the skills and knowledge to teach a variety of different clients using industry developed techniques formulated by experts in this field.
For this qualification to be valid you must hold a valid lifesaving qualification such as the SLSGB Surf Lifeguard or SLSGB Surf Coach Safety and Rescue award. We look forward to having you on our course
PADDLE BOARDING INSTRUCTOR COURSES COSTS
COURSE FEES £225
ABOUT PEMBROKESHIRE SURF LODGE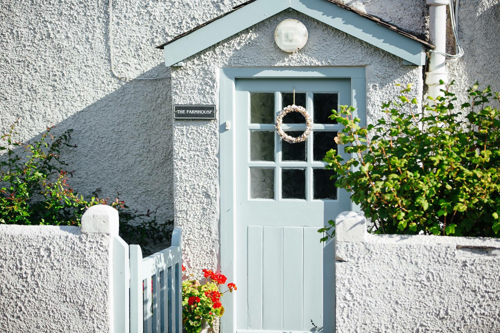 A short walk from golden, sandy beaches, this basic yet comfortable lodge is a dream location for those who want to spend time exploring the Pembrokeshire coast and enjoy the pathway to becoming an outdoor activity instructor. Come & experience Pembrokeshire's amazing blue flag beaches, which we boast are some of the best the county has to offer.
Just a short walk from Freshwater West, one of Wales's best beaches, Gupton Farm Surf Lodge is the perfect coastal escape for adventurous guests who want to enjoy the outdoors and meet up with friends and family.  You'll find lots of things to do right on your doorstep. Hike along the Pembrokeshire coast path, go wildlife watching at the nearby bird hide, or head straight to the beach. This wild, sandy stretch is adored by adventurers and nature lovers alike. With consistent swell and strong waves, the beach is regarded as one of Wales' best surfing spots. Our Surf & Paddle Boarding Centre is right next door, so all the equipment you need is right on hand.   
The surf lodge is a comfortable space for ten people & being on a campsite your venturesome friends and family may like to join you under canvas or in their camper van and stay close by.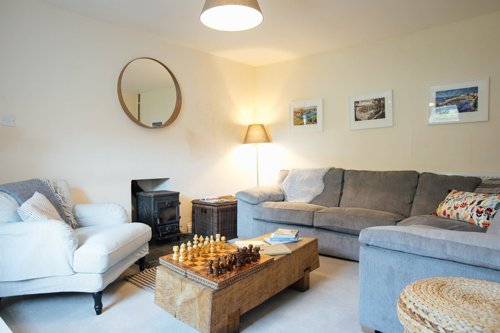 With its award-winning beaches, tranquil wooded valleys and outdoor activity centre, Stackpole estate is a short drive away. From kayaking to coasteering, you can try a variety of outdoor activities on the estate.
Location
We are based on Pembrokeshire's coastline in Wales on the westerly tip of the UK. Come & join us on your new career path as an outdoor adventure instructor. Experience Pembrokeshire's amazing blue flag beaches. Outer Reef Surf Centre was established in 1999 & has been running instructor training courses ever since. Our team of instructors are all fully qualified, who specialise in coaching development worldwide & will run you through all stages of learning how to develop as a multi activity coach. All surf equipment is provided by us. We are The Official Activity Provider for the National Trust & our Centre is licensed by the AALA Adventure Activities Licensing.
FAQ'S
We are based on the stunning Pembrokeshire coastline in Wales, on the westerly tip of the UK.
Yes we are. We have £10 million public liability insurance and all instructors & surf crew are fully qualified & members of the NGB.
Workbook Instructions 2 Qualification Information 3 SUP Surf Skills Assessment Sheet 4 Venue Analysis and Coach Session Records 6 Competency Checklists 26 Practical Coaching Hours Table 31 Coach Information Card 32 Workbook Final Checklist 34 Contacts
Acknowledgements
Course overview  day 1 Course overview day 2 ISA Surfing Accreditation Program
ISA's SUP Instructor Accreditation Program
Module 1: Role of the instructor 
Qualities of a good instructor
The community roles
Environmental Organisations 
Module 2: Safety of the paddler in your care
Duty of care
Safety guidelines
Paddling and weather conditions
Hazards
Access
Risk management
Venue analysis
Practical session 1: Venue analysis and beginner SUP lesson demonstration
Module 3: Equipment for the beginning SUP rider
Equipment
Maintenance & Storage 
Module 4: Instructing methods How to teach skills
Teaching methods
Instructional Evaluation
Inclusive instructing
Presenting the lesson
The essence of instructing
Module 5:
Skill Development
Characteristics
Core Skills
Kneeling
Standing
Paddling
Dismount
Paddle turning
Class Control and Safety
Enclosed flat water SUP skills
Module 6:
Program planning
52 Planning the lesson
Workshop 1: Planning the lesson.Practical session 2: Delivering the planned lesson
Practical session 3: Demonstrate basic SUP skills
Workshop 2: Assessing lesson delivery
Appendix 1: Assessment
62 Venue analysis assessment sheet
Lesson planning assessment sheet
Lesson delivery assessment sheet
SUP skills assessment sheet
Post course checklist
Appendix 2: National Training Standards
68 ISA Recommendations
ISA Standards Checklist
Appendix 3: Steps to level 1 accreditation
70 Accreditation requirements
National instructor accreditation scheme
Level 1 SUP instructor details
71 Appendix 4: Further Information
72 Contact Details
73 Online Shop
74 Organisations / Reading & Resources
Outdoor Instructor Training Courses