Surfing Pembrokeshire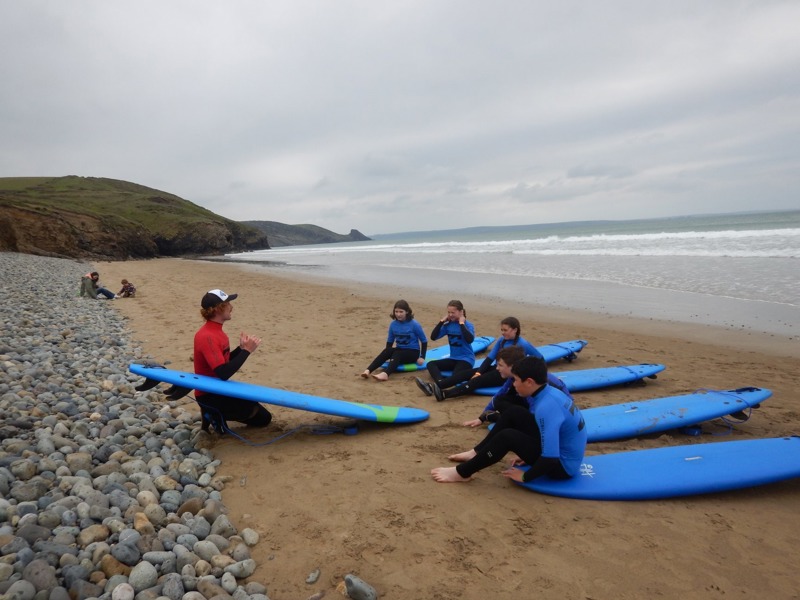 At Outer Reef we're able to offer consistent safe surfing that make learning to surf lots of fun for everyone, whatever their age or fitness level. We cater for people of all abilities, including those with learning or physical disabilities. If you've not tried surfing before, or are looking to brush up on your surfing skills, we highly recommend our surfing lesson. It will help you get the most out of your surfing.
Learn to surf
We offer a range of surf lessons for all ages, delivered by our experienced team of qualified coaches. In our lessons you'll learn about water safety, surf equipment, body positioning and how to surf. Once you're in the water, we'll be with you all the way as you catch your first waves.
Supported learning
Underpinning our culture is a strong belief that everyone learns differently, and there are many ways to ride a wave. Our mission is to provide you with a nurturing and supportive experience that gives you the skills and knowledge to surf your way. Our goal is to help you to progress whatever your age, ability or fitness level. Our experienced coaches will adjust lessons on the day to ensure they suit your surfing experience and confidence in the water.
Outer Reef surf Coaches
Our coaching culture seeks to bring out the best in everyone. Our coaches are highly qualified, professional and experienced. They are also down-to-earth, friendly and encouraging.
We have worked hard to develop a truly inclusive approach to learning to surf & Paddle Board that can be adapted to suit all levels and abilities and helps to build confidence as well as surfing skills.
We want as many people as possible to experience the buzz you feel after a surf because you've overcome a challenge, had a full-on workout or let the power of the waves wash over you.
Surf lessons in Pembrokeshire 
Our beginner surf lessons are a mixture of beach & water that take place on the white water waves.
We have created a progression pathway that allows a beginner to move from brand-new surfer to confident wave rider over a few lessons.
Our beginner lessons cover everything ABC from building confidence in white water and learning to control your board to introducing you to the surfing basics and developing good techniques that work for you.
Your first lesson is also important for us to learn about your surfing experience and personal goals so we can help you progress through our programme confidently, having fun all the way.