We hear from Louis, Bronwyn and Elizabeth, 3 young local surfers, as they tell us all about their winter in the water so far! The ups, the downs and the epic waves in between!

Q: IT'S BEEN WELL OVER A MONTH SINCE WE HAD OUR LAST SUNDAY SURF CLUB SESSION WITH OUTER REEF. HAVE YOU ALL BEEN SURFING SINCE THEN?
A: Yes, we've all been surfing together multiple times, after school and at the weekends.
Q: HOW'S THE WATER TEMPERATURE?

A: Great, especially when you're actually surfing because you're constantly moving around and distracted from the cold, plus, the chilly water is definitely a great motivation to stand up on the board. As long as you're sure to bring warm clothes to change into for after surfing as well, the cold water effect is wiped away very fast.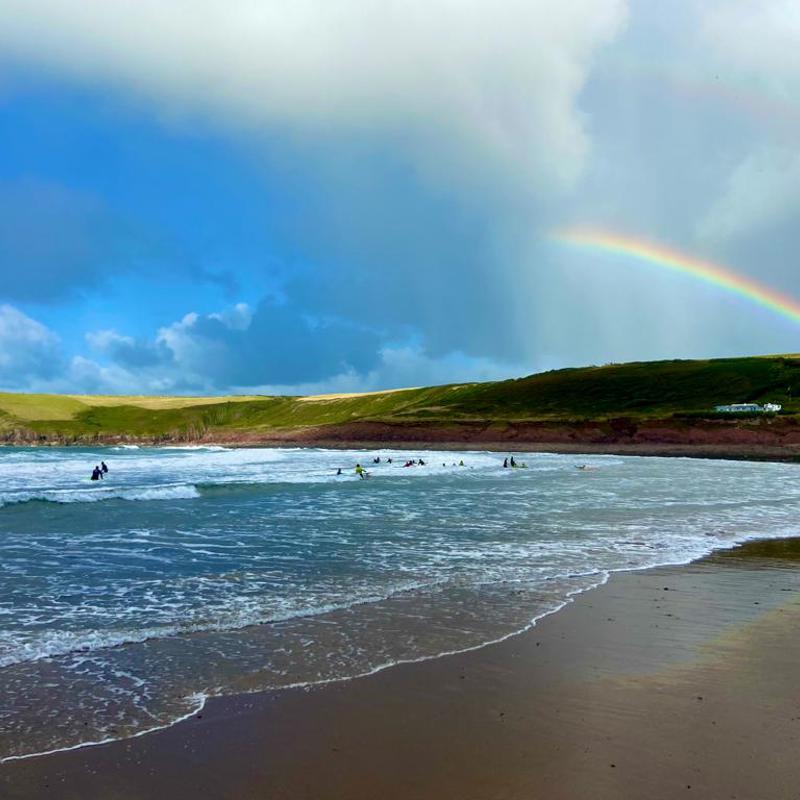 Q: HOW DOES SURFING IN THE WINTER COMPARE TO THE SPRING & SUMMER?
A: Although a pleasant warmth is always apparent in the summer, unlike the winter; surfing in the winter is always equally as fun, because as soon as you're in the water your sole aim is to catch good waves… And avoid getting turfed of course, which is a taller order for some.
Q: WHAT ADVICE WOULD YOU GIVE TO ANY OTHER YOUNG PEOPLE WHO ARE A LITTLE WORRIED OR ANXIOUS ABOUT GETTING IN THE WATER WHEN IT STARTS GETTING COLDER IN THE AUTUMN AND WINTER?
A: Just get straight into the water without thinking about it too much, the water will never be as cold as you expect it to be, and even if it is inevitably very chilly, you get used to it quickly and soon enough it won't phase you at all. And, a wetsuit makes all the difference.

Q: DO YOU LIKE COMING TO THE OUTER REEF SURF CLUB AND WHY?
A: We all enjoy coming to Outer Reef, and even if it's cold it's still great fun as it's an opportunity to get out of the house, meet and make friends, and always learn new things. Even if someone finds that surfing isn't exactly their thing, the coaches at Outer Reef help everyone to find it enjoyable.
Q: DO YOU FEEL YOUR SURFING HAS IMPROVED SINCE COMING TO THE CLUB?
A: 100%, because of the great coaches, we've all managed to advance in a short space of time. Without the club, none of us would have even started surfing, and it's the club that encouraged us to buy our own surfboards and therefore move forward with our skills outside as well.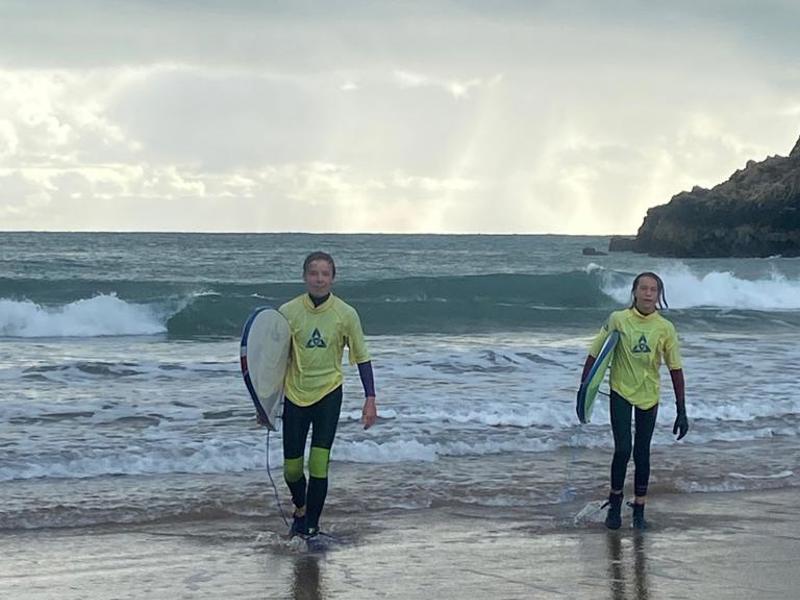 Q: DO YOU PREFER SURFING ON YOUR OWN OR WITH FRIENDS AND WHY?
A: We all prefer surfing with friends because it's a lot more fun, especially when you're Bronwyn, who's main personality trait is being competitive, Lizzie, who finds it more interesting to share waves with people, or finally Louis, who derives joy from watching people get wiped out. Also, surfing with friends is safer than alone as we can all look out for each other, and give each other tips.
Bronywn would like to add it is also a good time in the Winter to try and teach your dad to surf. Last Sunday we spent 1.5 hours in the sea at Freshwater West trying to teach him, but he was not very good.  We had soo much fun though we did not think about the cold.  We were the only ones in the sea!