Coasteering Sessions Pembrokeshire, Wales | Group Coasteering in Wales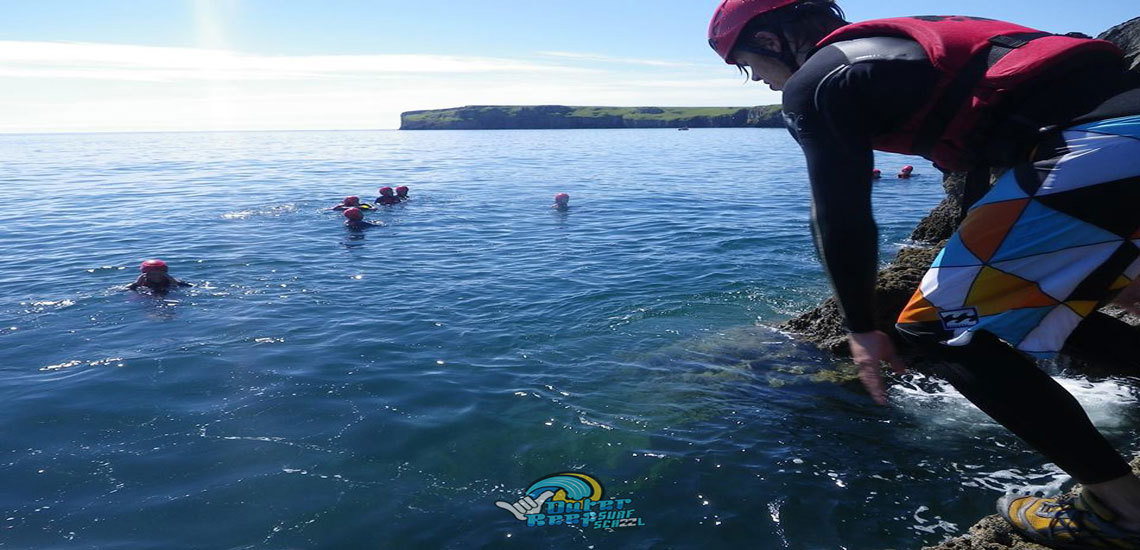 Coasteering Sessions Pembrokeshire, Wales | Group Coasteering in Wales
Coasteering Pembrokeshire, Wales | Group Coasteering In Wales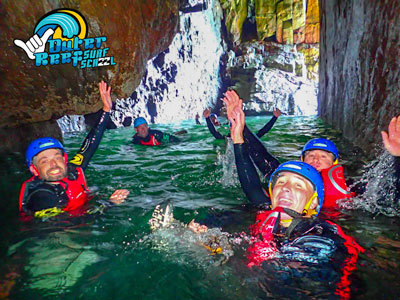 Think about climbing, scrambling, cliff jumping, swimming and a whole load of adrenalin. That's coasteering. The awe inspiring coastline of Pembrokeshire provides the ideal venue for this exhilarating adventure event where you'll find yourself swimming into sea caves, climbing up through natural rock arches, and flinging yourself from towering vertical rock faces.
Coasteering in Pembrokeshire is open to everyone over the age of eight, be they swimmers or non swimmers and to all ability levels. The qualified coasteering guides will tailor your coaster session to suit you, your family, or your group.
Kitted out with a toasty warm wetsuit, helmet and buoyancy aids and you'll be ready to take on the Pembrokeshire's coasteering adventure!
guides are all highly qualified and have an intimate knowledge of our coastline. Coasteering is a dangerous activity so the best way to stay safe is to make sure you book with our qualified coasteering team.
Just bring along your inner dare-devil and have the time of your life.
We use a range of stunning locations in Pembrokeshire including Stackpole Quay & Barafundle Bay for our coasteering and paddle boarding sessions & Freshwater West, Manorbier & Newgale beach for our surfing lessons.
We are also the activity provider for the National Trust & are licensed by the Adventure Activities Licensing Authority in the United Kingdom.
We love Coasteering in West Wales, Pembrokeshire for all the family. Our lessons are suitable for all ages 8+ and we tour around Tenby, Manorbier, Stackpole Quay & Barafundle Bay exploring the Caves and Cliffs along the coast.
Pembrokeshire surf and paddle boarding centre is located at Gupton farm near Freshwater West and Manorbier and we run our Paddleboarding lessons and Coasteering sessions from Stackpole Quay and Barafundle Bay and around Tenby and Pembroke. We Hire equipment from the beach & from our surf shops in Pembroke and at Gupton Farm.
Dates coming soon!
Call us or Email to find out more.