Kayaks right on the beach for you hire
Kayak Hire
in Pembrokeshire, Wales
Outer Reef Kayak hire Centre is your go to watersports hire centre that offers kayak rentals for exploring the Pembrokeshire coastline, which is a beautiful part of Wales. Kayaking is a great way to get up close and personal with the coastline, and the Pembrokeshire coastline has some stunning scenery and wildlife to discover.
All ages are welcome and under 18s accompanied by an adult. Our courses and tours are suitable for all abilities. So, hire to kayak with us in Wales and join our growing community of Outer Reef kayakers – it's a great way to meet make new friends and take away special memories
Stackpole to Barafundle Bay Kayak Hire
We Hire kayaks at Stackpole Quay harbour, a stones through from Barafundle Bay featureing hidden caves, wildlife wows, and crystal clear seas. Pembrokeshire at it's best.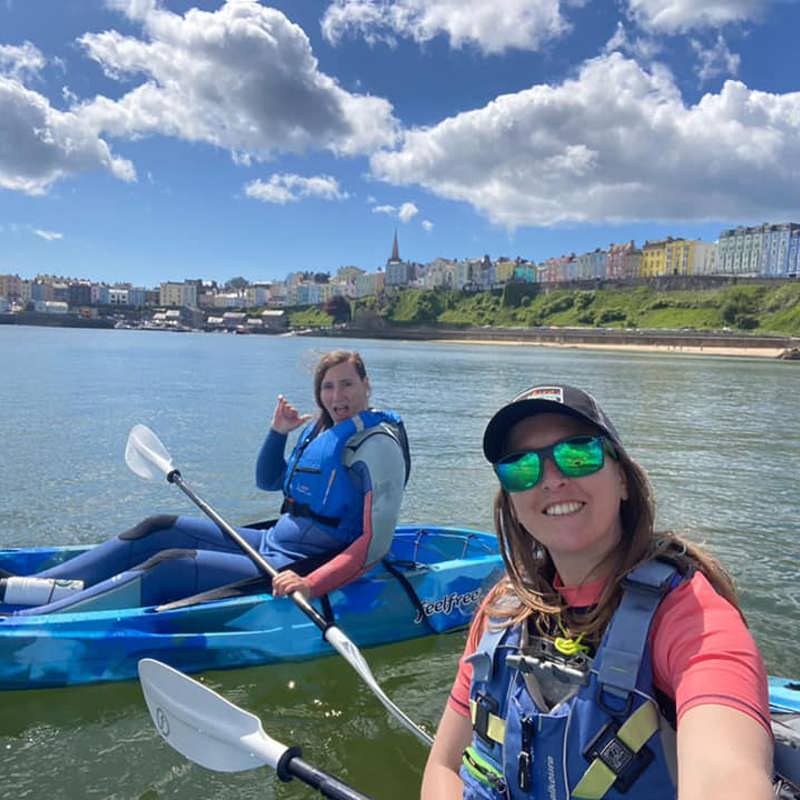 Tenby North Beach family Kayak Hire
Take in the incredible sights of Tenby from the water on one of our North Beach Paddle Boarding and Kayak Hire Centre. Get an up-close view of the famous Goskar Rock and watch as the light glints off the brightly coloured houses onto the crystal clear water.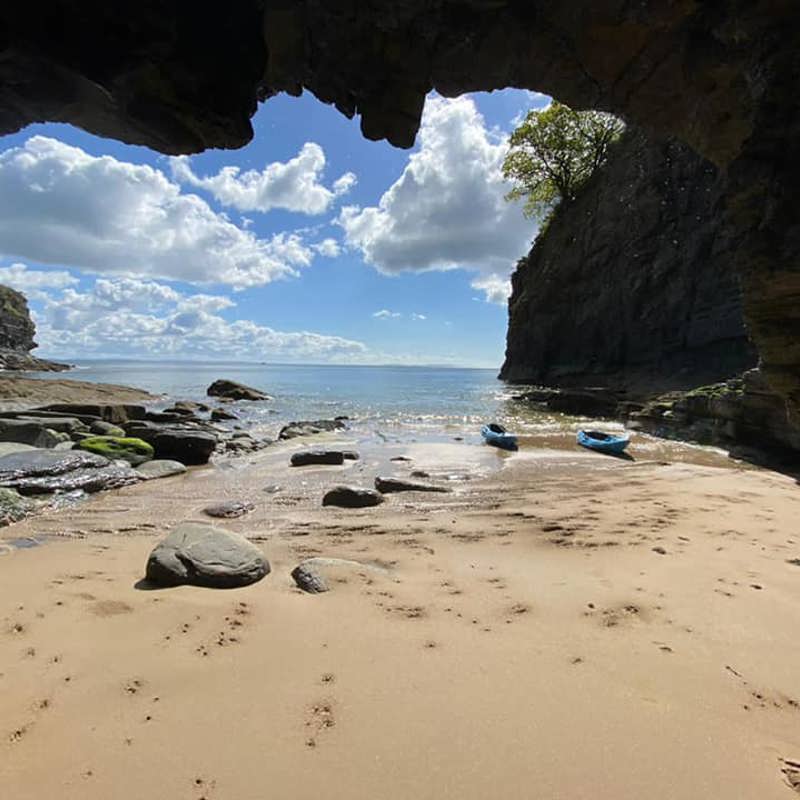 Kayak Hire Pembrokeshire
Saundersfoot to Monkstone Kayak Hire
Saundersfoot to Monkstone Point Kayak Hire. One of our favourite locations to explore is Saundersfoot, a picture-perfect coastal village nestled right in between Tenby and Amroth, in Pembrokeshire, Wales. This accessible seaside resort offers a wide sandy beach, gentle sheltered waters for paddle boarding, and miles and miles of spectacular and undiscovered coastline.
OPEN ALL DAY
ABOUT OUR KAYAK HIRE CENTRE
We are passionate and enthusiastic about what we do. It has taken us years of exploring the river and coastlines of Pembrokeshire to discover the beautiful locations. The routes we have created are totally unspoilt and full of hidden wonders. This makes our KayakHire easy and enjoyable a completely Pleasant experience.
ABOUT OUR HIRE
Our Kayak hire centre is open every day from April till November.
No crowds

Top quality equipment provided

Photo of your tour can be arranged

Morning or afternoon lessons either side of high tide
Sessions times are subject to availability, season, and weather conditions.
All equipment provided, fully qualified and insured staff
Main Season
We use many locations on the beautiful Pembrokeshire coast and inland waterways. From our new base at the Marine Centre of Excellence at Saundersfoot harbour you may explore the heritage coast of Saundersfoot or launch off the sheltered North Beach in neighbouring Tenby. The spectacular Stackpole Quay to Barafundle Bay kayak trip is also favourite of our customers.
Ultimately, this activity is controlled by what the wind, swell, and the state of the tide, so location may vary.  
We will pick the best and safest venue for hire and meet you 15 minutes prior to your hire time.
How to book?
Book online

or over the phone today on 01646 680070

Once booked you will get an email with all the information regarding the kayaking trip.
A bottle of water.

Swimsuit and/or board shorts.

Beach towel.

Sunscreen. 

Warm clothes to change into.

Shoes you do not mind getting wet e.g., old trainers.
Our instructors are all fully qualified. They will introduce you to the equipment, how to use it effectively. Safety is a big factor, and you will be shown good awareness of your surroundings, whilst at the same time, we can guarantee you will have a great time at some of the most beautiful beaches and coastlines in Pembrokeshire.
All Equipment Provided
KAYAK HIRE FROM £10 PER PERSON
We Are Wales' Trusted Water Sports Centre
KAYAKING HIRE IN PEMBROKESHIRE, WALES
Pembrokeshire Kayaking Centre has officially been working with National Trust for over 20 years, and we approach all our kayaking sessions with safety & maximising you experience in mind and all Outer Reef coaches are fully qualified instructors. All ages welcome and under 18s accompanied by adults ;)




Based right on the beach!
Kayak Hire in Pembrokeshire
It's important to keep safety in mind when kayaking in Pembrokeshire. Here are some things to keep in mind:
Pembrokeshire Kayak & Paddle Boarding School
ABOUT OUR KAYAK HIRE
Very easy
No crowds
Top quality equipment provided
Photo of your tour can be arranged
All equipment provided, fully qualified & insured guides
WHY CHOOSE PEMBROKESHIRE KAYAK CENTRE?
It took us years of exploring the coast to discover the beautiful location. The routes we created are totally unspoiled and fully of Hidden wonders that make our tour completely unique experience.
PEMBROKESHIRE KAYAKING
We have also received awards for having a sensitive approach to recreational activities in Pembrokeshire Coastal National Park.
WHAT ABOUT THE CONDITIONS
Pembrokeshire has a unique coastline which provides almost perfect conditions most days, if they're not perfect we can re-arrange your booking and make sure that your adventure is as magical as it should be.
"The whole tour was incredible such a beautiful peaceful place & the colours from the sunlight in the caves were absolutely brilliant. Dean was a really helpful & an excellent guide" Relaxing or adventurous you can have it all we'll take you on an otherwise untouchable section of our coastline far from any signs of inhabitation. As you paddle, the natural beauty of rock formation & imposing caves is so breathtaking your feel as if you have left the real world behind you.
WE'LL PROVIDE:
A friendly and fully qualified guide
Wetsuit and the kayaks
Safety Equipment
YOU'LL NEED TO BRING:
Towels
Swimwear
Sun tan lotion
Warm clothes to change into after the session
Facilities/Site info:
We use many locations on the beautiful Pembrokeshire coast that give us such amazing views but not all the facilities that more build up areas can offer, there are public toilets and plenty of space for changing, if you can wear your swimming equipment to the session or having a changing robe/towel then we would recommend bring on the day.
WE WILL GIVE YOU A:
Brief theory & safety covering the sea / river, weather & local sites
SUP equipment
Stance and Balance
Paddling styles
Paddle strokes & techniques
Board control & steering
Paddle and board stability
Once you have learnt the SUP basics you can progress onto the river tours or wave surfing lesson.
WE ARE ALSO AN ISA TRAINING CENTRE
We are also the only ISA-Surfing GB training centre of excellence in Wales and train instructors from many water sports centres throughout the UK and Europe. Training surf coaches, Sup instructors & Beach lifeguards.

We have also received awards for having a sensitive approach to recreational activities in Pembrokeshire Coastal National Park.
Stand up paddle boarding is one of the fastest growing watersports in the world. We are one of the first schools in the UK to teach stand up paddleboarding and we are the only ISA training Centre in Wales. Our Sup coach Dean Gough, who is a UK Team rider & Ambassador for Star Boards & Red Paddles has been a true water man for over 30 year and travels all around the world training up Beach life guards, Surf & Sup instructors for the ISA. We are one of the only ISA Accredited Stand Up Paddleboard school in the UK.
Wales is one of the best locations to discover this new exhilarating experience. Stand up paddleboarding has origins in West Africa and in Polynesia and people are paddling on rivers, lakes, and oceans all over the world. Stand up paddle surfing is just one small discipline of the sport with the fastest growing areas being on lakes, estuaries and rivers with individuals paddling recreationally, downwind or racing.
In fact, we are so convinced that you will take to stand up paddleboarding at Outer Reef Surf School, we guarantee you will be paddling by the end of your very first lesson! Who could say fairer than that? We would love to introduce you to this amazing new way of enjoying Pembrokeshire's stunning inlets & estuary or even in the ocean. Wales & the UK is set to become world famous for stand up paddleboarding too, so get down here and take part in this incredible experience!
The ISA's International Surf Stand-Up Paddleboard (SUP) Instructor Accreditation Program is designed to develop the skills, knowledge and abilities of these individuals who wish to try and master the SUP.
WHAT IS STAND UP PADDLE BOARDING?
The main thing that makes this different to surfing is the fact that you stand on the board and have a paddle to propel yourself along the coast. Stand up Paddle Boarding is often shortened to SUP as it makes it easier to say. The boards are generally much bigger than a surfboard, ranging from 8ft in length! SUP has taken off around the world since it started to hit the media in 2003. So what are you waiting for? Book your Sup adventure today with Outer Reef Surf & Sup School and find out about this awesome sport.
WHY SUP?
If you have only just heard of this new craze or if you have been thinking of trying it for a while then don't delay…come on down and have a play. Paddle Boarding is great fun and is fast to pick up. If the sea has run out of waves then this is perfect for an adventure along the Pembrokeshire coast. At Outer Reef we aim to make sure you feel at home on your board within the first session and you will undoubtedly get a unique view of Wales' coastline!
WHY SUP WITH US?
We are passionate and enthusiastic about what we do. We take the time to make sure that although you are within a group environment everyone gets individual attention. And if you need it we can make a bespoke Paddle Boarding experience just for you or your group.
WHAT ABOUT KIT?
So if you fancy having a bit of a paddle about we have everything you need! We have full wetsuits, paddle boards and of course some paddles. Our SUP coaches always carry a first aid kit in a bag so if you need to take anything with you this is no problem. The only thing you will need is your swimwear, a towel and maybe some sunscreen!
HOW WE ROCK?
You will meet a member of our SUP coaching team at the beach or harbour. From there they will take the time to find out if you have paddled before and what we are planning to get up to in the session.
Our SUP adventures will be broken down into a few parts; learning a few skills, then getting out and about on the Pembrokeshire coast. The most important thing we will do is have some serious fun!
You will have a member of our team there alongside you, to help you get going and improve your technique.
With an intimate knowledge of the Pembrokeshire coast, your coach will guide you on an unforgettable adventure.
PADDLE BOARDING LOCATIONS?
We use many locations on the beautiful Pembrokeshire coast. We will generally start off in Stack Pole harbour to get your skills up and then go out and explore the Welsh coast. If you have been out before with us, we could start from a beach instead (weather conditions allowing). This activity is controlled by what the wind,swell and tide is up to. Most Paddle boarding tours start at StackPole then we head along the south Pembrokeshire coast, exploring hidden caves and beaches.
ABOUT OUR INSTRUCTORS
All our team are fully qualified ISA surf & Stand up paddle boarding coaches & beach lifeguards who will run you through the first stages of learning how to surf in Pembrokeshire.

We will introduce you to the equipment, how to surf it and how to catch a wave. Safety is a big factor and you will be shown good awareness of your surroundings, whilst at the same time, we can guarantee you will have a great time at some of the most beautiful beaches in Pembrokeshire.
Wear a lifejacket: Always wear lifejacket or personal flotation device (PFD) that we provide when kayaking. Even if you're a strong swimmer, you never know what conditions you might encounter, and a lifejacket can help keep you afloat if you get into trouble.

We check the weather: Before you go kayaking, check the weather forecast and the tide times. It's important to avoid kayaking in bad weather, wind or when the sea is rough. The Pembrokeshire coastline 

can be particularly exposed to the wind and waves, so it's important to be aware of the conditions.

Stay close to shore: If you're new to kayaking or not an experienced sea kayaker, it's a good idea to stay close to shore. This way, you can easily paddle back to land if you encounter any difficulties.

Respect wildlife: The Pembrokeshire coastline is home to a range of wildlife, including seals, dolphins, and birds. It's important to respect their space and avoid getting too close. This will help to minimize disturbance to their natural habitat.

Stay in a group: It's safer to kayak with others, rather than going solo. This way, you can keep an eye out for each other and help each other out if needed.
Buy following one of our tour or by following these guidelines and taking the necessary precautions, you can enjoy kayaking on the Pembrokeshire coastline safely and responsibly.