AWARD-WINNING ADVENTURE BREAKS
Adventure Activity Holidays in Pembrokeshire, Wales
SURF, COASTEERING & PADDLE BOARDING ADVENTURE BREAKS IN PEMBROKESHIRE
Delightful seaside resorts, brilliant beaches plus Britain's only coastal National Park have always made Pembrokeshire ideal for jolly family holidays. Are you looking for a surf and paddle boarding (SUP) weekend with a difference? These are the innovative ways we've found to get out and play so why not let us do the hard work and help create the perfect trip for you and your family or friends in Pembrokeshire.
Outer Reef's Adventure Activity Breaks and Holidays are perfect for those who fancy getting away from the city and getting active in the outdoors including families and small groups of all abilities. We use a range of stunning locations including Stackpole Quay and Barafundle Bay for Coasteering and Paddle Boarding and Freshwater West or Manorbier Beach for our surf lessons. Why would you want to go anywhere else in the UK for your weekend trip?
Head to Pembrokeshire for an adventurous weekend of surfing, paddle boarding, and coasteering. Our high quality lessons and experienced instructors will get you in the water and explore the Pembrokeshire coastline in no time.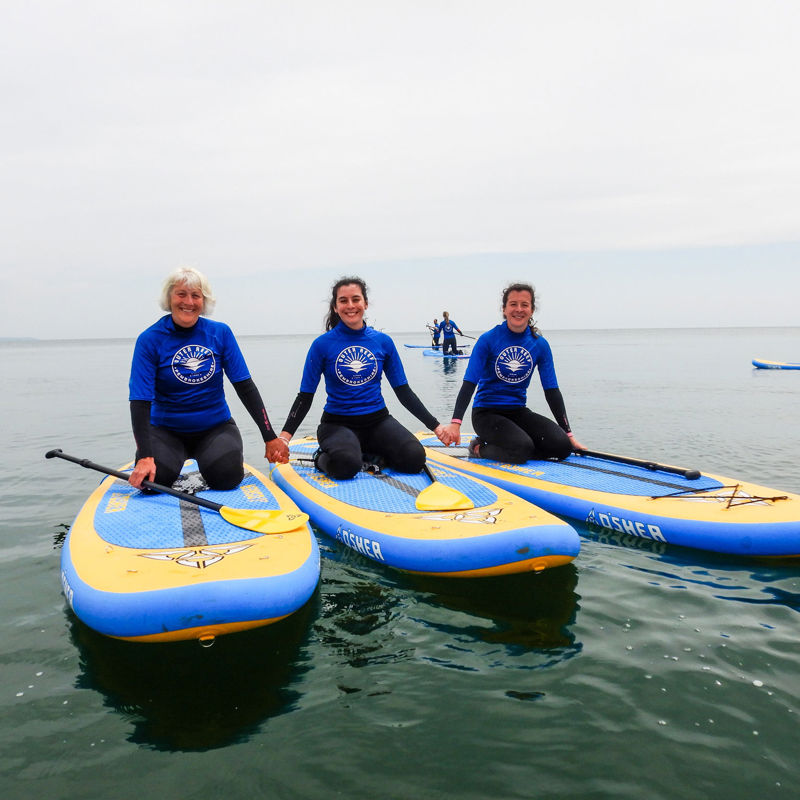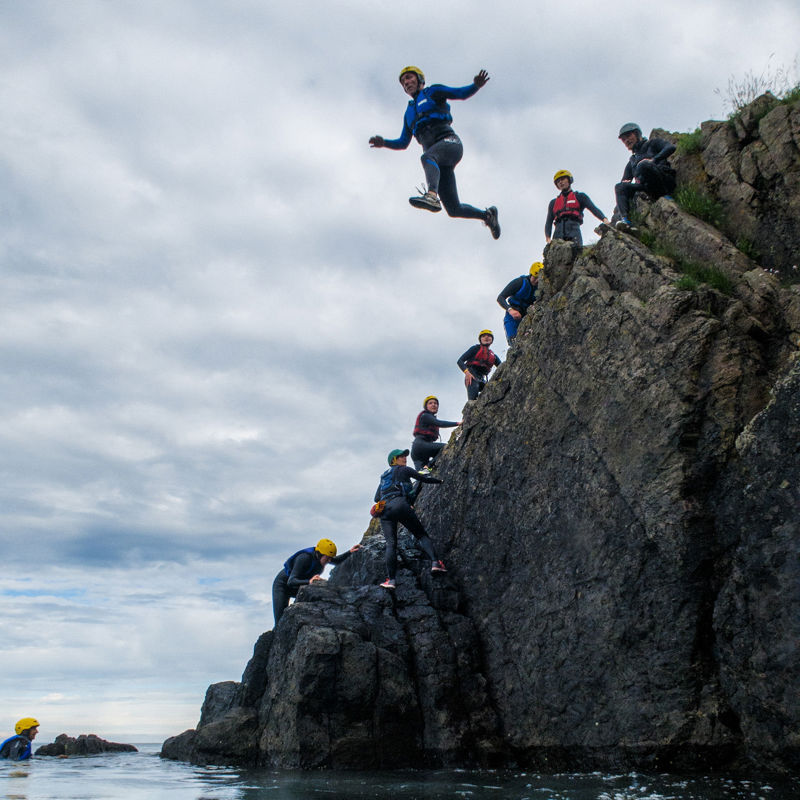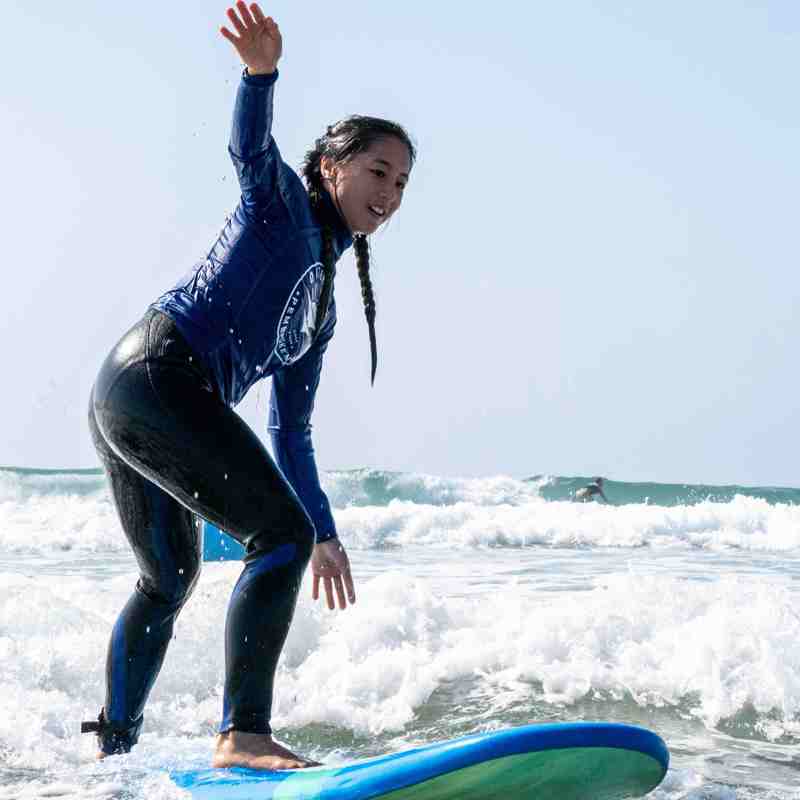 What Is Included?
ADVENTURE ACTIVITY HOLIDAYS IN PEMBROKESHIRE
2 x Surf Lessons

1 x Paddle Boarding Experience

1 x Adventurous Coasteering Session 

All equipment required for the activities 

Professional, experienced and qualified guides and instructors
FAMILY ACTIVITY BREAKS IN PEMBROKESHIRE, WALES
Our surf and paddle boarding breaks offer the perfect balance between a peaceful and relaxing escape and an adrenaline fueled adventure. Suitable for families and groups over the age of 8.
Dates & ITINERARY
YOUR ADVENTURE ACTIVITY BREAK WITH OUTER REEF
Let us do the hard work and create the perfect weekend away for you and your family or friends. Arrive on Friday, and spend your Saturday and Sunday surfing, paddle boarding and coasteering.
Our adventure weekends are designed for anyone aged 8 upwards and all abilities, including those who have never surfed, paddled or coasteered before. 
2 x 2 Hour Surf Lessons

1 x 2 Hour Paddle Boarding Experience

1 x 2 Hour Adventurous Coasteering Session 

All equipment required for the activities 

Professional, experienced and qualified guides and instructors
Cost: £150 per person
We create individualised itineraries for all of our weekend adventure break activities taking into account the weather forecast, wind and tide times to ensure that you have the best possible experience with us in and on the water. We recommend arriving on a Friday, as your activities will take place on Saturday and Sunday. You will receive your detailed itinerary (via email) a few days before your arrival in Pembrokeshire. 
Example Itinerary*:
DAY 1 (Friday) - Arrive at your accommodation and settle in before your activities start the next day. Our team have spent years exploring Pembrokeshire and are happy to offer recommendations for a couple of hours of exploring after your arrival. 
DAY 2 (Saturday)  - Meet our team of instructors at around 9 30am for your first activity. Depending on the conditions and weather forecast we may start off with a surfing lesson at Freshwater West. Or if it's a beautiful flat calm morning we may kick off with a SUP Session. After lunch we will jump in the water for our second activity of the day. Your instructor will help you hone this morning's skills and work on new ones. Each day tends to finish around 4pm. 
DAY 3 (Sunday) - We will start our Sunday morning off with an adrenaline fuelled coasteering session at Stackpole Quay followed by a leisurely lunch. We will then finish off our action packed weekend with a Coasteering session from the idyllic Stackpole Quay. Say farewell to your instructors at around 4pm and reminisce on your awesome weekend on the journey home!
*The actual itinerary and the duration of the activities are subject to change due to group abilities and preferences, weather conditions and forecasts, tides, etc.
Pembrokeshire is a wonderful part of West Wales to spend a weekend! Our team at Outer Reef have over 100 combined years spent living and exploring our little piece of paradise. 
Here are our recommendations on where to accommodate your family or group for your activity weekend; 
'Stay Pembrokeshire' offers an impressive array of holidays lets and rooms suitable for any budget
Gupton Farm Surf Lodge & National Trust CampSite offers the perfect coastal escape for adventurous guests who want to enjoy the outdoors and meet up with friends and family. You'll find lots of things to do right on your doorstep. Hike along the Pembrokeshire coast path, go wildlife watching at the nearby bird hide, or head straight to the beach. This wild, sandy stretch is adored by adventurers and nature lovers alike. With consistent swell and strong waves, the beach is regarded as one of Wales' best surfing spots. 

The quaint town of Pembroke is very central and offers a good variety of bnb's and hotels

The Stackpole Inn situated in the picturesque village of Stackpole is a stones throw from our favourite paddle boarding location combined with its award-winning beaches and tranquil wooded valleys you can't go wrong with a stay here

Plan a stay in Tenby or Saundersfoot which has everything any weekend break requires; gorgeous beaches for those sunset walks and great value pubs and restaurants for your evenings
EPIC ACTIVITIES BREAKS IN PEMBROKESHIRE, WALES
Any questions please don't hesitate to contact us!
Surf & Paddle Boarding Experiences For All Abilities
Adventure Breaks & Holidays In Pembrokeshire
ADVENTURE BREAKS IN PEMBROKESHIRE GALLERY
ADVENTURE BREAKS IN PEMBROKESHIRE
FAMILY ACTIVITIES BREAKS IN PEMBROKESHIRE WALES
Stand-up Paddle boarding is one of the hottest water sports around at the moment and some of the reasons are it's quick to learn and a great experience.
SUP is the often used abbreviation for Stand-up Paddle boarding and is one of the fastest growing sports currently, with many people trying it and it is increasing in awareness as so many celebrities are trying this new activity for its fun and easy way to play on the water.
SUP is so popular as you are not just restricted to the sea where waves are but it can also be practiced on rivers and lakes anywhere and gives you a great workout. It's fun, it's not as hard as it looks and you can enjoy a wide variety of activities doing SUP we offer Yoga, Kids SUP, parties, group events, company events. See our reviews and you'll see it's really is FUN!
Our new Surf centre at Gupton Farm expands our services to include surfing lessons, parties, guides and rentals. Our Surf & paddle boarding instructors are also incredibly experienced and Cascais is listed as one of the top 5 places to surf & paddle board in the world , so come along and join us. 
ADVENTURE BREAKS IN PEMBROKESHIRE
are designed for all abilities
including those who have never surfed or paddle boarded before. 
The two days are split into 4 sessions The mornings will start at the beach at 10am and finish at around 12.15pm,
then we break for lunch (you will need a packed lunch) and start again at 2pm-4pm.
Our adventure weekends are designed for anyone aged 8 upwards and all abilities, including those who have never surfed, paddled or coasteered before. 
2 x 2 Hour Surf Lessons

1 x 2 Hour Paddle Boarding Experience

1 x 2 Hour Adventurous Coasteering Session 

All equipment required for the activities 

Professional, experienced and qualified guides and instructors
Cost: £150 per person
FAMILY & SMALL GROUP ADVENTURE BREAKS IN PEMBROKESHIRE