''Great Fun, Amazing Memories & The Children Loved It!''
The Week was great, It had an absolute perfect balance between peaceful and relaxing to full adrenalin and adventure. Suitable for all school groups. 
Surfing Paddle Boarding & So Much More...
Multi Activities For School Groups In Pembrokeshire Wales
At Outer Reef Surf School we designs tailor-made activity programmes to suit the requirements of individual schools.
Multi Activity Week Packages For Schools
Outer Reef would like to welcome you & your school for a week full of water-based activities all over our beautiful Pembrokeshire Coastline. We have over 20 years of experience in providing activities suitable for children in an enjoyable and safe way so have put together a full schedule of over 10 activities over the course of the week! All our instructors are fully qualified coaches and lifeguards and are first aid trained.
The benefits of spending time in and on the water are endless and include:
Positive impact on physical health and mental wellbeing
Gain an appreciation for our beaches and coastline
Learn how to keep yourself and others safe while using the ocean
Gain an understanding of local wildlife and plant life
Gain confidence in and out of the water
Introduction to multiple new, popular sports
Gain an appreciation and respect for the importance of preserving our natural surroundings
Activities
Giant SUP Treasure Hunt up the Haven Waterway
SUP Adventure Tour from Stackpole Quay to Barafundle Bay
Introduction to Surfing
Beach Olympics
Become a master body boarder
Explore the coastline of Stackpole Quay with a snorkel
Lifesaving & First Aid
Supervised surfing
National Trust Pembrokeshire Coastal Walk
Coasteering
Beach clean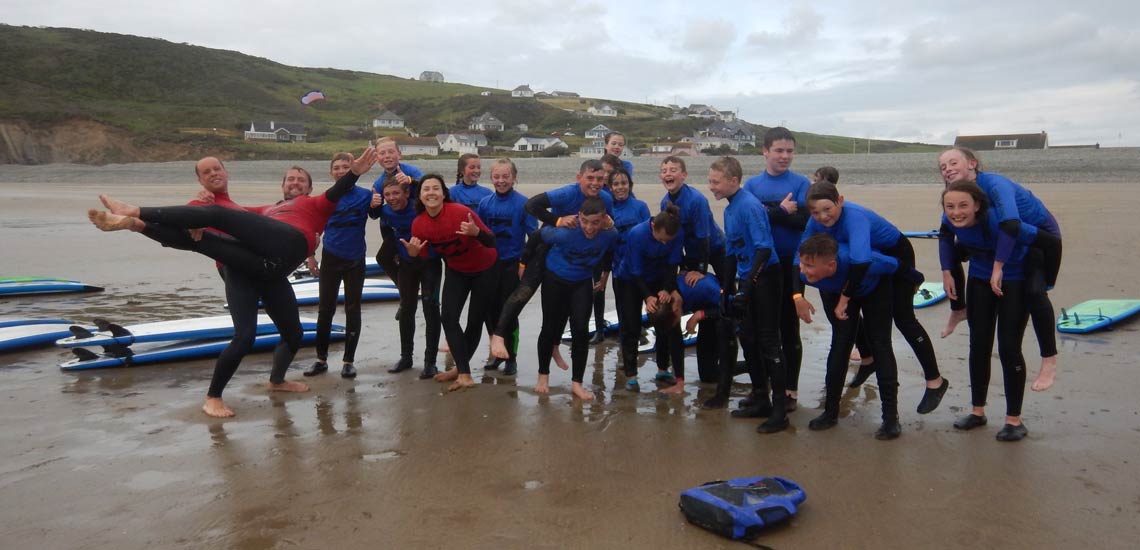 Option 1 – Multi Activity Week
A full week of up to 10 different water based activities provided by Outer Reefs fully qualified Instructors and lifeguards.
The cost of this week would be £225
per person (£45 per day).
Option 2 – Surf Progression Week
A full week of surfing lessons, theory and progression sessions & Paddle Boarding provided by
Outer Reef's top surf coaches. All children will work towards there Bronze, Silver or Gold.
The cost of this week would be £175 per person (£35 per day).
Accommodation in bell tents or YHA style accommodation can be added for £40 per person/per night.
(All prices are estimates based on groups of 30 children but smaller or bigger numbers are welcome )
With over 20 years of running school specific activity visits, Outer Reef Surf Centre has developed an excellent understanding for what stimulates, educates and engages students and teachers. Our tailor-made programmes are designed to cater for varying outdoor educational needs and requirements whilst allowing for a safe, fun-filled, learning environment in which students greatly benefit from.
We designs tailor-made activity programmes to suit the requirements of individual schools that visit Pembrokeshire safety and enjoyment is paramount whilst developing a greater understanding for the beach & ocean environment.
School Trips
Take advantage of our complete services and we'll handle the planning and organization of the class trip so you as the teacher have time for what's most important: focusing on the children.
School trips are important for building teamwork and a sense of community, taking responsibility and they promote self-confidence in students. For some, these trips are the only way to have an experience outside their normal living environment. And of course the children and young people take home many experiences that will remain unforgettable.
Nowadays, for a successful school trip, special program elements are required. Our programs include modern pedagogical, educational, adventurous and experiential components which foster a closer relationship between the students. The teacher can individually choose how much they want to be involved in the program. The same goes for the students: "challenge by choice" is our motto. Through motivation, we try to move them out of their personal comfort zone and boost their confidence.
We are also the activity provider for the National Trust & are licensed by the Adventure Activities Licensing Authority in the United Kingdom.
Allowing everyone the opportunity to expose The National Park and the wonderful world of the outdoors and it's many different environments.
ENRICH
Each outdoor experience should present an element of quality and value, from catching the first wave to an open water paddle board activity.
EVERYONE
The outdoors is both a playground and classroom for all ages and abilities allowing for an enriching, learning environment.
As well as enjoyment and learning, safety plays a key role in all of our outdoor experiences. Since its establishment Outer Reef Surf Centre has continued to raise its standards, maintaining an excellent track record in Health & Safety and receiving outstanding reports from both the Adventure, Activities, Licencing Authority (AALA) whiles training a large majority of RNLI & outdoor Multi activity instructors.