Newgale beach |Surf Lessons Newgale Pembrokeshire, Wales | Surfing Pembrokeshire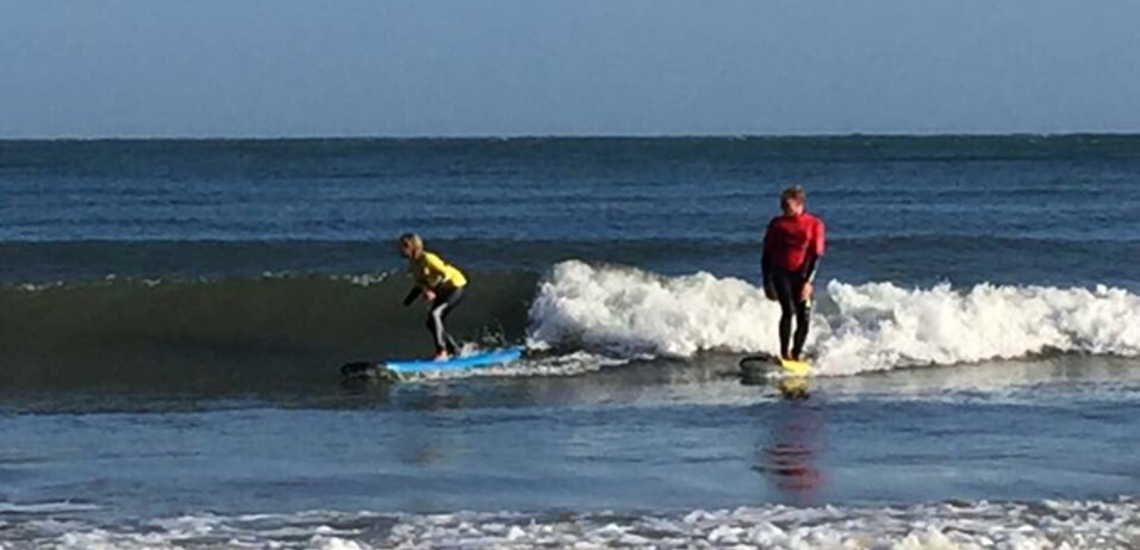 Newgale beach |Surfing Lessons Newgale Pembrokeshire, Wales | Surfing Pembrokeshire
Newgale Beach Surf Lessons Pembrokeshire, Wales  Surfing Pembrokeshire
Surfing Lessons at Newgale Pembrokeshire, Wales. We run Surf Lessons at Newgale Beach in the beautiful Pembrokeshire Coast National Park. This Beach is Enormous! is the only way to describe this beach; it's almost 2 miles of sand backed by a huge pebble bank formed after a BIG storm in 1859.
We run Surfing Lessons on this popular beach and hire is available.
Walk right down to the southern end to find a walk-through cave and numerous sheltered bays.
Cross the river, at the back of the pebble bank opposite the cafe at the north end to gain access to several low tide bays.
At very low tide it's possible to walk round to Cwm Mawr beach but keep an eye on the tide times as you dont want to get cut off.
Dog restrictions apply to the middle third of the beach between the 1st May and 30th September. Check out a map of the beach to help with which section of beach it applies to.
Surfing Lessons In Newgale, Pembrokeshire | Family Surf Courses
We run daily Surfing Lessons around Newgale area from Easter to the end of October primarily for family's  
Learn To Surf With Us
Our Surf Courses Times
Morning outings start at 9:45am
Afternoon outings start at 1:45pm
Our times do depend on the wind & tide to make your experience the best it can be!
WE'LL PROVIDE:
* A friendly and fully qualified Surf Coach
* Wetsuit & all equipment 
* Safety Equipment
SURFING COURSES IN PEMBROKESHIRE
* Towels 
* trainers or flip-flops or wet suit beach shoes to get wet
* Swimwear
* Sun tan lotion
* Clothes to change into after the session