Explore the River Cleddau on a Scenic Stand-Up Paddle Boarding Adventure in Pembrokeshire
Experience the stunning River Cleddau in Pembrokeshire like never before with Outer Reefs Stand Up Paddle Boarding Lessons! Embark on a picturesque journey starting from Llanion and gliding along the meandering river past Lawrenny, all the way to the medieval Cresselly Arms pub at Cresswell Quay. Take in the breathtaking views and learn the art of stand-up paddle boarding on this unforgettable adventure.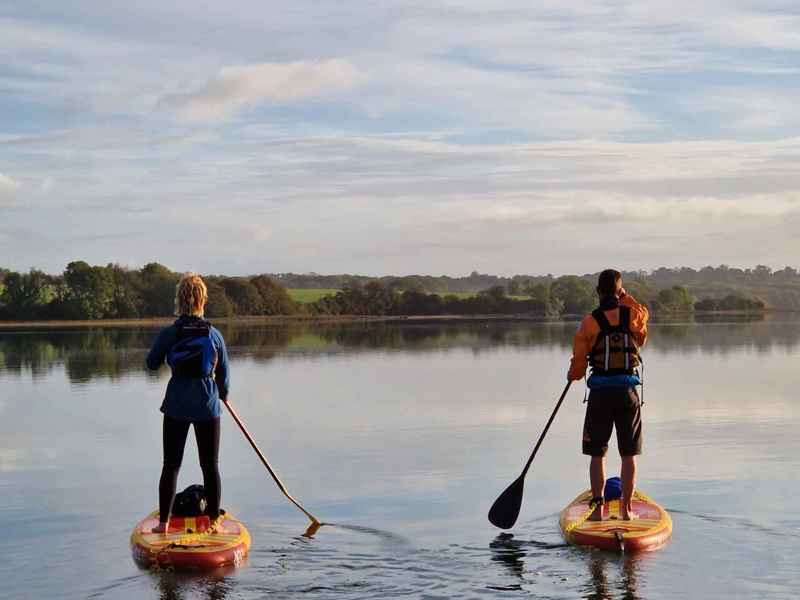 Discover the Stunning Locations
The River Cleddau is a hidden gem of Pembrokeshire, offering breathtaking views and unique features at every turn. At Llanion, you'll start your journey through a peaceful estuary surrounded by lush greenery. As you paddle towards Lawrenny, you'll pass by quaint cottages and historic landmarks like the medieval church of St. Caradog. And at Cresswell Quay, you'll arrive at the Cresselly Arms pub, a picturesque spot for a break before heading back to Llanion with our free minibus transfer.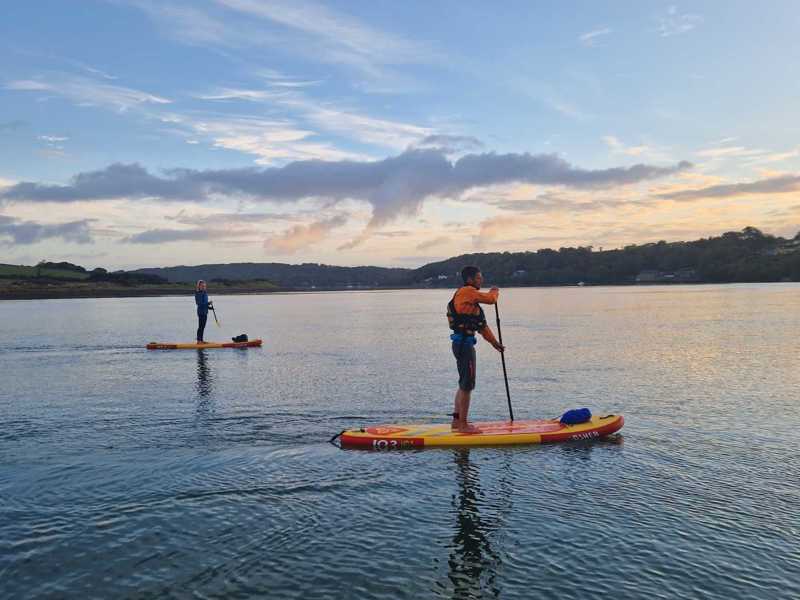 Experience Our Lessons
Our stand-up paddle boarding lessons are designed for beginners and experienced paddlers alike. Our experienced instructors will teach you the essential paddle boarding techniques, including how to balance on the board, how to paddle efficiently, and how to turn and stop with ease. Our high-quality equipment and ISA qualified SUP instructors to ensure a safe and enjoyable experience for all. And with our expert guidance, you'll be gliding along the river with confidence in no time.
We Are Wales' Trusted Surf School
PADDLE BOARDING IN PEMBROKESHIRE, WALES
Pembrokeshire Paddle Boarding School is the activity provider at Gupton Farm in partnership with The National Trust camp site, and we approach all our SUP sessions with safety & maximising you experience in mind. We are licensed by the AALA (Adventure Activities Licensing Association) and an accredited surf school, and all Outer Reef surf coaches are fully qualified ISA surf school instructors.




Paddle Boarding in Pembrokeshire FAQs
Stand up paddleboarding (SUP) is a water sport where you stand on a large board and use a paddle to move yourself through the water.
Outer Reef Surf & SUP School is the only ISA training Centre of Excellence in Wales and has won awards for its sensitive approach to recreational activities in Pembrokeshire Coastal National Park. Our experienced and fully qualified ISA guides provide high-quality equipment and unique tours that explore the hidden wonders of the Pembrokeshire coastline.
We provide wetsuits, SUP boards, and safety equipment, but you will need to bring towels, swimwear, sun tan lotion, and warm clothes to change into after the session.
The cost of a 3-hour guided tour with fully qualified and insured guides is £40 per person, including all equipment.
During a guided SUP tour with Outer Reef Surf & SUP School, you will receive a brief theory and safety covering the sea/river, weather, and local sites. You will learn SUP equipment, stance and balance, paddling styles, paddle strokes and techniques, board control and steering, and paddle and board stability.
If the weather conditions are not suitable for a SUP session, we will rearrange your booking to ensure that you have the best possible experience on a different day.
Outer Reef Surf & SUP School is the only ISA-Surfing GB training centre of excellence in Wales. We train instructors from many water sports centres throughout the UK and Europe, including surf coaches, SUP instructors, and beach lifeguards.
Stand up paddleboarding is a low-impact, full-body workout that improves balance, core strength, and cardiovascular health. It is also a great way to explore the natural beauty of the Pembrokeshire coastline.
River Cleddau Stand up paddleboarding lessons in Pembrokeshire
We hope this helps! Let us know if you have any further questions about our River Cleddau Stand up paddleboarding lessons and tours. Our team is always happy to help and provide you with the best possible experience on the water. We look forward to seeing you soon!
Paddle Boarding Pembrokeshire, Wales
Outstanding Natural Beauty
Cresswell Quay is a picture postcard hamlet on the Cresswell river, and a good place to relax on a summer's evening & Try Paddle Boardi. The quay, once used for shipping anthracite now provides parking and outdoor seating for the popular Cresselly Arms pub. The river can usually be crossed by stepping stones, but these become submerged at high tide. On the opposite side of the river a footpath leads along the banks of the river to Lawrenny, whilst other public footpaths lead off in most directions.
There are toilets here and parking is on the roadside or grass verge.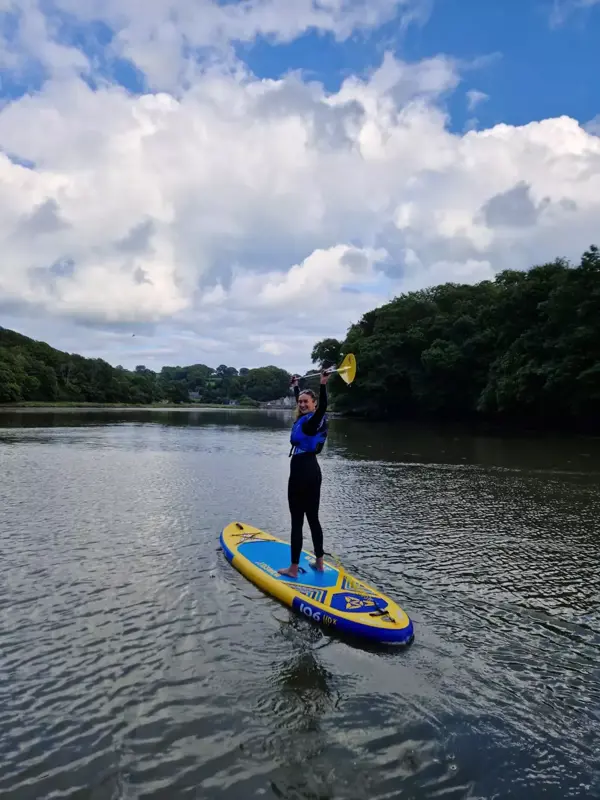 Become a certified ISA Flat Water SUP Instructor with our training courses.
Get ISA Flat Water SUP Instructor Certified with Our Experienced Trainers
Looking to take your stand-up paddle boarding skills to the next level? Look no further than our ISA Flat Water SUP Instructor courses! Our courses are designed to take you from beginner to certified instructor, giving you the skills and knowledge you need to teach others the joy of paddle boarding.
At Outer Reef, we pride ourselves on being more than just instructors; we're trainers of trainers. With years of experience teaching and training other instructors, our team has the knowledge and expertise you need to succeed.
So why should you choose Outer Reef for your ISA Flat Water SUP Instructor course? Not only do we have a proven track record of success, but we also offer personalized instruction and a supportive learning environment that will help you achieve your goals. Plus, with our deep knowledge of the sport, you'll be learning from the best in the business.
Ready to take the next step in your paddle boarding journey? Book your ISA Flat Water SUP Instructor course with Outer Reef today and discover the thrill of teaching others to SUP!