Saundersfoot Water Sports Centre | Outer Reef Marine Centre Of Excellence
We are passionate about adventure activities and providing the very best experiences for you no matter your age and ability. We offer, not only Kayaking Lessons and Stand Up Paddle Boarding Tours but also Coasteering Adventures and Pembrokeshire Activity Retreats, something for everyone!
Our centre is nestled in the historic Harbour of Saundersfoot based in The Marine Centre of Excellence Adventure Centre. This picture-perfect seaside location prides itself on having its own beach, quick access to the cliffs and waves and is one of Pembrokeshire's top flat water teaching areas. You really couldn't ask for a better spot to learn to paddle board, it's fun, easy and most importantly; safe.
We have a vast array of top of the range equipment available for hire, including all our water sports equipment but also the best mountain bikes on the market so you can explore what Pembrokeshire has to offer, not only on the water but on land too!
We boast over 65 years of experience and knowledge in the outdoor adventure industry between the directors and our fully qualified team of staff are continuously training to be the best, so we can guarantee you're in the safest of hands.
Drop by and pay us a visit to Saundersfoot Harbour, Pembrokeshire, SA69 9HE (look out for our Outer Reef flags flying!)
OPEN ALL YEAR
Saundersfoot Water Sports Centre | Outer Reef Marine Centre Of Excellence
"IF YOU LOVE ADVENTURE LOOK NO FURTHER. GO AND ENJOY PEMBROKESHIRE LARGEST RANGE OF ACTIVITIES WITH OUTER REEF".
Come & Explore The Pembrokeshire Coast & Discover Our Beautiful Locations
Kayak and Paddle boarding Locations in Pembrokeshire, Wales

Paddle Boarding At Barafundle Bay
A remote, slightly curved, east-facing sandy beach near Stackpole Quay.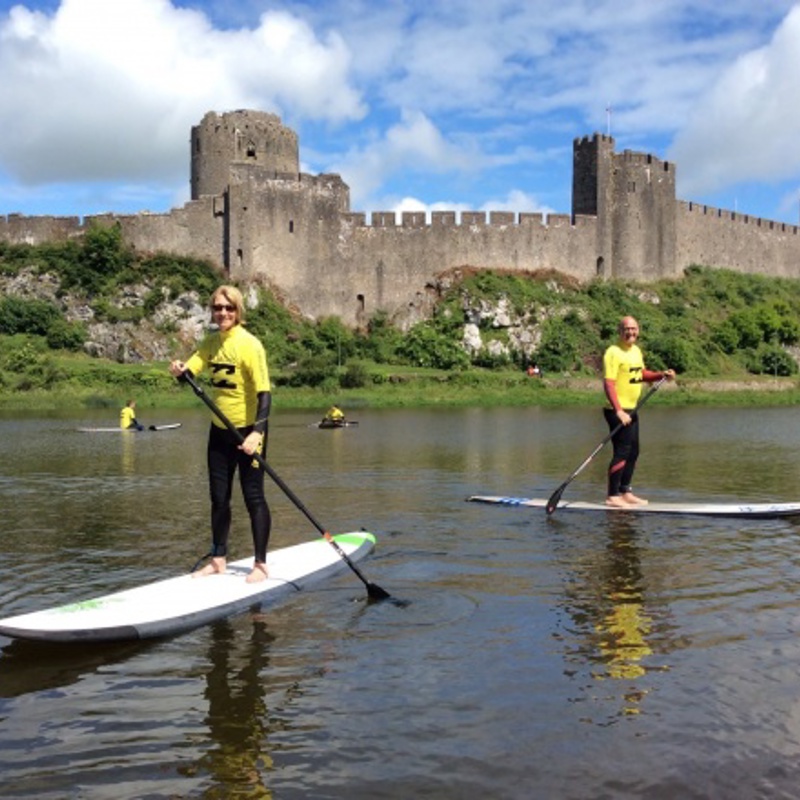 Paddle Boarding at Pembroke Castle
Stand Up Paddle Board around The Moat of Pembroke's Medieval Castle.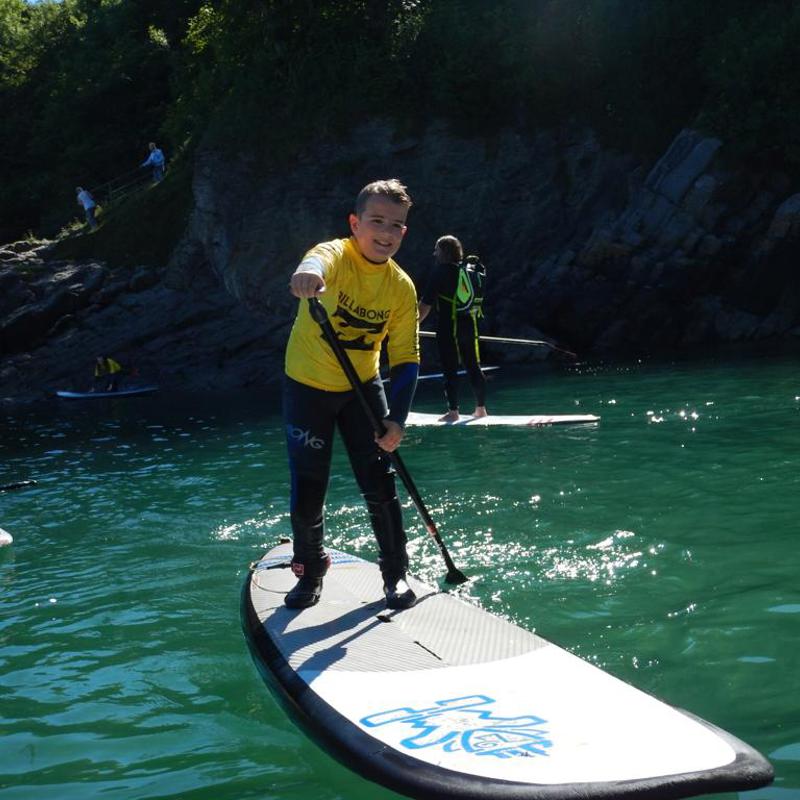 Paddle Board To Cresswell Quay
Launching From Llanion Cove Down a Meandering River to Cresswell Quay

Tenby Paddle Boarding School | Kayak & Paddle Boarding Hire On Tenby North Beach
Tenby North Beach | Kayak & Paddle Boarding Hire On Tenby North Beach
Saundersfoot Paddle Boarding School | Kayak & Paddle Boarding Hire On Saundersfoot Beach
Saundersfoot Paddle Boarding School | Kayak & Paddle Boarding Hire On Saundersfoot Beach

Stackpole Quay Paddle Boarding School | Kayak & Paddle Boarding Hire Pembrokeshire
Stackpole Quay Kayak & Paddle Boarding School | Kayak & Paddle Boarding Hire Pembrokeshire
Paddle Boarding Saundersfoot | Giant SUP Pembrokeshire, Wales
MONSTER STAND UP PADDLE BOARDING IN SAUNDERSFOOT
10 MAN XL SUP IS A TOTALLY UNIQUE AND BRAND NEW ACTIVITY WE HAVE CREATED IN SAUNDERSFOOT, PEMBROKESHIRE.
MONSTER S.U.P INTRO – BEGINNER
= CALM WATER
This unique SUP adventure is the perfect introduction to Paddle Boarding. Whether it's a family adventure or a group of friends we can guarantee non-stop laughter and giggles on board our jumbo SUP! Under the expert guidance of our qualified instructor, you will be taught the basics of paddling and before you know it will be on the water having an epic experience. All equipment is provided including a qualified coach/guide, top quality wetsuits and of course our Monster SUP.
(The Minimum Age for this activity is 8 years of age)
Upon arrival at our Centre, you will be met by a member of our friendly team who will get you checked in and kitted out with all the equipment you need. You will then meet your coach for a safety briefing, following which you will hit the beach for a warm up and introduction to paddle boarding technique. Then straight into the ocean for an awesome team paddle in our sheltered harbour and around the stunning Saundersfoot coastline. A debrief on returning to shore and time to cool off and get changed.
GROUP DISCOUNTS AVAILABLE FOR 2021
BOOK TODAY OR CALL US FOR ADVICE – 01646 680070 OR 077769903653
GENERAL INFORMATION ABOUT OUR MONSTER SUP ACTIVITIES
All equipment included – Wetsuit / Board / Paddle.
Fully qualified instructor as your Helms man.
Duration of activity – 2 hours.
All activities run daily.
Focus on beach and ocean safety, including warm up and plenty of practice time
You will need to bring a towel, swimming costume or swim shorts, beach shoes or flip flops, waterproof sunblock and a hair band to tying your hair up.
Our Facilities in Saundersfoot Harbour
Just 50 yards from 2 golden sandy beaches our centre offers the perfect safe launch area and sheltered water teaching zones
Parking – Pay and Display parking close to the centre – lots of parking options & spaces.
Inspected and Licensed – by Adventure Activities Licensing Authority (AALA) to take juniors on adventurous activities
Public Liability Insured.
All instructors have enhanced DBS checks
HOW TO BOOK
Please pre-book – Book online today – Click on the blue "Book Now" button next to the activity you would like. The date may skip to tomorrow, but if you would like some thing for today or have any difficulties booking, give us a call.
Some activities have a minimum of 2 persons to take place so do call us and we will be able to book you in. Call 01646 680070.
All customers are being placed in arrival time slots to maintain social distancing; we may contact you straight after booking to adjust the time if there is a clash. Everything is taking place outside to maintain social distancing.
WHAT IS GIANT PADDLE BOARDING AKA MONSTER SUP
Monster SUP Pembrokeshire (aka XL Giant Stand Up Paddle Boarding) is a totally unique activity, which has evolved from the rapid growth of Stand Up Paddle Boarding. This is an amazing and fun fuelled experience that everyone can take part in, with the help of our expert instructors to teach, train and steer.
Our Monster SUP can be used for beginner flat water sessions and scenic wildlife and coastal tours in Saundersfoot.
Our knowledgeable and expert staff will teach you all aspects of beginner techniques in a fun and safe environment. At our prime location in Saundersfoot Harbour, we offer fantastic facilities, as well as the best location on the Pembrokeshire coast for beginner Monster SUP sessions.
For larger groups we have a fleet of Monster sups, where you can all be out on the same session together and get competitive.
Check out our other Stand Up Paddle boarding Activies on offer using the link below
Stand Up Paddle Boarding in Pembrokeshire.
Unfortunately we don't hire out our Monster SUPs for safety reasons but we do hire out single Stand Up Paddle Boards
WHO'S IT FOR?
Monster SUP is suitable for everyone from groups, families and friends for a fun day out that you won't forget. Our Monster SUPs can take up to 10 participants plus an Instructor (11) to take both young and old, experienced or not. We can teach you everything you need to have a great time and enjoy the thrills of being together on a giant surfboard.
(Must be able to swim 25 metres)
Our team of highly qualified instructors will look after you every step of the way in a safe and fun manner.


Water Sport Courses & Equipment Hire
Saundersfoot Water Sports Centre | Outer Reef Adventure Activities Pembrokeshire, Wales
Outer Reef Water Sports Centre is the official activity provider for The National Trust, and we approach all our surfing lessons with safety in mind.  We are licensed by the AALA (Adventure Activities Licensing Association), are an SSA accredited surf school, and all Outer Reef surf coaches are fully qualified ISA surf school instructors.